Founder – Arthur N. Edrop 
May 15, 1884 – July 13, 1973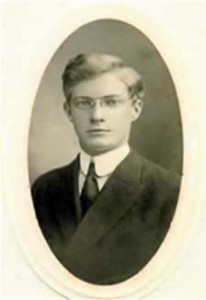 Born in Birmingham, England, on May 15, 1884, the second son of George T. Edrop, Art came to the United States at the age of 11 with his family. He never appears to have taken out U. S. citizenship. He attended Boys High School in Brooklyn in the same class (1904) as his older brother, Percy. At the end of his Sophomore Year he helped organize the Omega Gamma Delta Fraternity on June 22, 1902.
Following Boys High School, Brother Edrop studied art at Pratt Institute, under John Whittaker at Adelphi College and under Joseph Boston at the Brooklyn School of Art. He served as Omega's first Grand Secretary while in high school and as Grand Princeps in 1904-1905, while in college.
After art school, Brother Edrop worked as staff artist, cartoonist and feature writer for the Brooklyn Daily Eagle, the Newark Star, the New York Tribuneand the Philadelphia Bulletin. Among his more interesting assignments was an interview with John L. Sullivan, retired first heavyweight World Boxing Champ.  The great John L. had his gloves on, and as he was introduced, he stuck out his hand and in his best Emily Post manner said "pardon my glove". Then he told his story. The old boy had a sense of humor.
From there he went on to advertising work for clients such as Michelin, Strawbridge and Clothier, Wanamakers and Filenes. At Michelin he headed up the entire U. S. advertising campaign starting in 1916, and revamped the iconic Michelin Man advertising image. In 1999, the Michelin Man, as portrayed by Edrop, was named the Advertising Logo of the Century. As a former journalist Art was able to handle both advertising text and illustrations for the project. During the same period he became a cover artist for Colliers, McCalls and Saturday Evening Post, where his main rival as cover artist was Norman Rockwell. Among his side projects over the years were illustrations for The Texans Ride North, and future best-selling author John Jakes first novel.
Over the years, he found time to write many articles, short stories, plays and even radio scripts for Philadelphia radio. He was a long-time resident of Radnor, Pennsylvania, on the Main Line, where he headed the Wayne Art Museum, the Committee on Civic Progress and designed the still-used Wayne County logo intended for roadside signage.
Brother Edrop's more serious art was of military men and scenes. Many of his canvasses hang in academies, clubs and the homes of many private collectors. He designed a book on military uniforms and intended to be titled Soldiers of the King, but it never reached publication. And during World War I, Art generated several major recruiting posters now displayed at the Library of Congress.
When age began to erode his pure art skills, Brother Edrop returned to journalism in his 80s, as one of the editors of TV Guide. His career was noted in both Who's Who in the East and Who's Who in American Art.
Art designed Omega's first crest and its pin while in high school. He was the principal author of our first national constitution and co-authored the first verse of the Omega Song. Though out of regular contact for many years, he continued to be an interested alumnus and attended a convention in the 1960s along with his friend, Founder Walter Dohm. (They met prior to the event at the home of Art's niece Sheila McCartney, whose son had gone to high school in Port Washington, New York, with the grandson of Walter Dohm.) In his last years he wrote frequent letters to the brothers, met with brothers who visited his home in Radnor and died on July 13, 1973, at the house of his son (also a prominent artist) in Wisconsin, while actually preparing an introduction to Omega's then-new Pledge Manual.