Sports Icons
Brother Vince Lombardi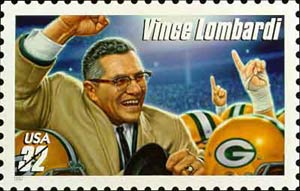 Whenever you watch football's Superbowl on TV, you see the top teams competing for the "Lombardi Trophy," highest honor in professional football. It is named for an Omegaman. Brother Vincent Thomas Lombardi was born on June 11, 1913. At first Vince wanted to study for the priesthood and spent a couple of years at a seminary. Then he transferred to St. Francis Prep, where he was a standout on the football team and became a charter member of Omega's Alpha Pi II Chapter on January 23, 1933. From St. Francis he went on to Fordham University where he was a nationally known football player as one of the "Seven Blocks of Granite," as well as graduating with academic honors.
From 1948 to 1954 he honed his coaching skills serving under "Red" Blaik as offensive line coach at West Point and from 1954 to 1959 as offensive coordinator for the New York Giants. He was the head coach for the Green BayPackers of the NFL from 1959 to 1967, winning five league championships during his nine-year tenure. Following a one-year retirement in 1968 (when he served as Packers' General Manager), he returned as head coach of theWashington Redskins for the 1969 season. He died on September 3, 1970, before the beginning of the following season. Lombardi's record in regular post-season was 9-1, the only loss coming in the very first of those games, the 1960 NFL championship.
Brother Lombardi has become virtually synonymous with professional football. This began when he was featured as the face of the NFL on the cover of Time magazine on December 22, 1962, as part of the magazine's cover story on "The Sport of the "60s." Lombardi's players were wholeheartedly devoted to him, and his emphasis on hard work and dedication endeared him to millions who admired his values. Only one week after his early death at age 57, the Superbowl Trophy was renamed in his honor. He was elected to the Hall of Fame in 1971. Vince is credited with introducing the concept of "zone blocking" to the NFL.
Lombardi was legendary for his coaching philosophy and motivational skills. Many of his speeches continued to be frequently quoted and he is remembered for his unequivocal commitment to winning. His most famous maxim is "Winning isn't every thing; it's the only thing."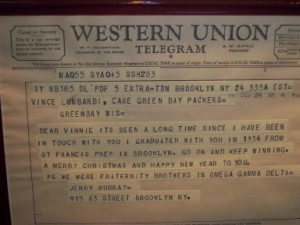 This telegram is in a trophy case in the Green Bay Packers Hall of Fame in Greenbay, Wisconsin.
Brother Nick Bollettieri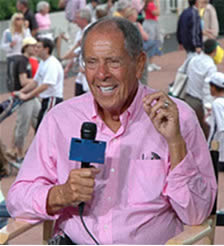 How many of us know the thing that binds tennis greats Andre Agassi, MonicaSeles, Boris Becker and the Williams' sisters together. Brother Nicholas James Bollettieri, coach to all of them. Nick is a major tennis coach who is credited with developing numerous world-class champions, including Agassi, Jim Courier, Seles, Mary Pierce, Venus Williams, Maria Sharapova, Jelena Jankovi, Nicole Vaidiajovaj, Tommy Haas, Serena Williams, Martina Hingis, Max Mirnyi, Marcelo Rios, Becker and a number of others. This many champions says a lot about their teacher. He was the founder of the Port Washington Tennis Academy in 1960 (later headed by Brother Steve Lubar) and several tennis camps. In 1981, he opened the Nick Bollettieri Tennis Academy in Bradenton, Florida, following four years at the Colony Beach and Tennis Resort.
Brother Bollettieri was born on July 31, 1931, and graduated from Pelham High School where he was quarterback of the football team and became a charter member of Omega's Beta Lambda Chapter on December 7, 1946. After graduating from Spring Hill College he served with the United States Army and then briefly attended the University of Miami Law School.
Brother Bollettieri continues with teaching and public speaking engagements throughout the world. He is instruction editor of Tennis Magazine and wrote an autobiography, "My Aces, My Faults," with Dick Schapp in 1996.
Basketball Origins
The history of the origins of most sports is nebulous. America's traditional sport of baseball actually boasts half a dozen serious claims of origin with no real idea of which is right. Football is slightly better with a clear date for the first public collegiate football game (November 6, 1869, between Princeton and Rutgers), but with a lot of uncertainty as to what preceded it.
On the other hand, basketball is both newer and more clearly defined. Basketball was invented at Springfield College in Massachusetts during December 1891, by Dr. James Naismith. It quickly caught on at colleges around the country because it required less space and investment than other sports and began to appear in high schools by the early 1900s.
By the 1920s, college basketball games were attracting large crowds in small spaces and achieving considerable newspaper coverage. Professional teams were also springing up, but lacking large spaces for crowds, were anything but profitable.
All of this changed overnight and was virtually the invention of one man, Ned Irish, a New York journalist and budding sports promoter who managed to get Madison Square Garden to offer their venue on an empty date (after first turning the proposal down) and four college coaches willing to take a dare. The date was December 29, 1934, and the audience a whopping 16,188. Basketball never looked back and the rest is history. From audiences of perhaps 400-500, suddenly you had counts of 20,000 and the sport could become a major event both in college and professionally.
Irish called "Basketball's Godfather" and "Father of Big Time Basketball" and two of the four coaches ("Jake" Cann of NYU and "Buck" Freeman of St. Johns) had all been members of Omega Gamma Delta in New York City. Whether their Omega connection actually paved the way will never be known. All died without being asked, even Cann who remained interested in Omega up until his death at age 97 and whose membership certificate still exists.
But here are the stories of these three basketball pioneers, two of them early inductees to Basketball's Naismith Hall of Fame.
Brother "Ned" Irish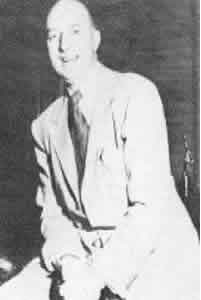 Founder of the New York Knicks and
      President of Madison Square Garden
Brother Edward Simmons "Ned" Irish was a born salesman. His date of birth was May 6, 1905, in Lake George, New York, and by the age of 10 he was already earning a living selling soda and newspapers and renting boats following the death of his father. The family moved to Brooklyn in time for Ned to attend Erasmus Hall High School. While at Erasmus he was 1924 class president (in a class of over 1,000), involved in student government, manager of the tennis and swimming teams, member of Arista (the honor society founded by Brother Walter B. Gunnison) and elected "Best All "Round Boy." He was initiated into Omega's Gamma Chapter on December 7, 1921. And he did all of this while being an "earner," working as a stringer for three New York City dailies and working in the school cafeteria. Imagine a class president as a "lunchroom lady."From Erasmus Ned went on to the Wharton School at the University of Pennsylvania, where he doubled as a reporter for the Philadelphia Record and as sports stringer for several New York newspapers while editing the Penn newspaper and literary magazine, as well as selling sheet music and creating Penn's first job placement bureau. In 1928 he returned to New York as Sports Reporter for the New York World Telegram.  For additional income he doubled in the low paying jobs of publicity director of the New York Giants and the embryonic National Football League.
As time passed Ned saw that college basketball games were increasingly pressed for audience space and this was brought home in 1933 when he tried to cover a game at Manhattan College, couldn't get in, and had to crawl through a window tearing his best pair of trousers. "Anytime there was a big college game you had to fight your way into the building. I realized that basketball had outgrown those gyms. The time seemed right. There was a lot of interest then in the colleges. It was very successful right from the start."
Ned went to work for the Garden and rapidly found he could fill it for frequent basketball events, leading to the creation of the NIT in 1937. During World War II he became President of Madison Square Garden and managed to fill 500,000 seats a year with college basketball. At the end of that period he moved it up a notch, founding the professional New York Knicks and the Basketball Association of America, predecessor to the NBA.
Professional basketball was off to a running start across the country and Ned continued running the Knicks until 1974, doubling as head of the Garden from 1960 to 1974, when he retired. One of his first players on the Knicks was Ernie Vandeweghe of Beta Gamma Chapter, whose basketball hero had been Howard Cann. Small world! Ned entered Basketball's Naismith Hall of Fame in 1964 and died on January 21, 1982.
Brother "Jake" Cann

Brother Howard Gardsdell "Jake" Cann was born on October 11, 1895 and initiated into Epsilon Chapter at the High School of Commerce in New York City on March 17, 1911. He had previously attended Barringer High School in Newark,New Jersey, where he may have been associated with the Ramblers before they became Kappa Chapter. At Commerce he was Captain of the Basketball team and President of the Athletic Association.
Following Commerce, he briefly attended Dartmouth before transferring to New York University where his father was Director of Athletics. Jake was originally in the Class of 1918 at NYU but didn't actually graduate until 1920 because of time taken out to serve as a Navy Lieutenant during World War I. He played both football and basketball at NYU and was captain of both teams when they won national championships.
In basketball, Jake was selected as the national Collegiate Player of the Year and in 1920 was also named the best player in the then short history of the sport. He was also selected for the 1920 Olympic Team in Hurdles; then sidelined with a broken leg; and finally re-selected to compete in shot put. (Howard's younger brother Ted, also an Omega Brother, was a national champion in swimming, an Olympian, and the Navy's first Medal of Honor winner in WW I.)
Howard Cann became NYU's basketball coach in 1924 and served in that position until 1958 when he retired. In 1934-1935 NYU was undefeated national champion; was in the NCAA Final Four in 1945 and NIT runner-up in 1948. Howard himself was named Basketball Coach of the Year in 1947. From 1931 to 1933, he doubled as NYU's head football coach and was Director of Athletics from 1939 to 1958. He stands as a member of seven Sports Halls of Fame, including Basketball's Naismith Hall of Fame to which he was elected in 1968.
Jake Cann remained interested in the fate of Omega Gamma Delta until his death at the age of 97, on December 18, 1992, and saw to it that the fraternity had access to some of his memorabilia.
Brother "Buck" Freeman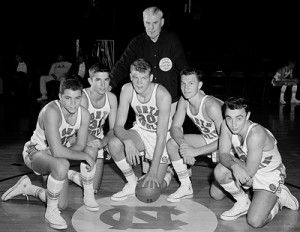 Brother James Ambrose "Buck" Freeman was born November 16, 1900, and first attended Fordham Prep School where he joined Omega's Zeta II Chapter on June 2, 1922. He then transferred to St. Johns Prep where he was one of the charter members of Alpha Zeta Chapter in 1923.
From St. Johns Prep, Buck moved on to St. Johns itself where he was the star of the basketball team as an undergrad and went on to appointment as head coach immediately after graduation, a selection that made St. Johns a national basketball power. His first team developed into the "Wonder Five." Starting out as a team of five Freshmen, they won 85 games against 8 losses, four of them as they were first developing (a record for college basketball). A side story comes to the fore here. While the 1934 Garden game was the event that made national basketball, Freeman had actually staged a smaller preview three years earlier when St. Johns beat CCNY in a charity game at MSG, the actual first basketball game in the Garden.
Over his St. Johns career, ending in 1936, his teams won 177 games with 31 losses for an NCAA record of .851 and generated a number of early professional players, especially from his first team, which went into professional basketball as a group, becoming the New York Jewels of the American Basketball League. As coach he created the multiple and "switching" defenses; screening and pivot on offense and the "give-and-go" that transformed the game. There is still a plaque at St. Johns defining Buck Freeman as the "Father of Modern Basketball."His teams were so decisively effective that the NCAA had to adopt major new rules (center court line and 10-second rule) to level the playing field.
Buck was also St. Johns' Director of Athletics and later coached professional basketball and teams at the Universities of North and South Carolina and the University of Scranton, part of the time as assistant to one of his own former students, Frank McGuire. He died on February 15, 1974.
Brother "Pal" Vandeweghe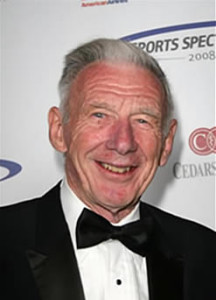 Very few men manage to marry professional sports and medical school. Brother Ernest Maurice "Pal" Vandeweghe Jr., did just that. Born in Montreal, Canada, Pal Vandeweghe played football, basketball and baseball for Long Island's Oceanside High School where he joined Omega's Beta Gamma Chapter on March 3, 1943.
Following high school, Brother Vandeweghe attended Colgate University where he was an All-American in both basketball and soccer.  He was also selected for the 1948 U. S.Olympic Team, but didn't compete. A 6'3″ guard, Vanderweghe was drafted by the early New York Knicks of the then-Basketball Association of America in 1949, was team captain and played in the NBA for six seasons. He is the husband of 1952 Miss America Colleen Kay Hutchins and father of former NBA all-star Ernest M. "Kiki" Vandeweghe III.
A top student in college, Brother Vandeweghe did double-duty while captain of the Knicks by studying for his medical degree at Columbia University College of Physicians and Surgeons, one of the toughest in the U. S. an extraordinary feat.
Brother Vandeweghe's special role with the Knicks was as a substitute, coming off the bench in the third or fourth quarter, to rally the team to victory. Knick fans would often see him dashing into Madison Square Garden from a late class at Columbia, practically changing into his uniform on the run and reporting immediately to the scorer's bench. He became known as the first important "sixth man" in NBA history and "Doctor Vandeweghe" was a frequent cry resounding through the Garden. Pal's honors include Colgate University Hall of Fame, All-East, East-West All Star Game MVP, and MadisonSquare Garden All Decade Team.
With his MD in hand, Brother Vandeweghe left professional basketball and joined the U. S. Air Force, where he was Chief of Pediatrics at the Wiesbaden Hospital. Following military service, he was Chief of Pediatrics at Prairie Medical Group in Inglewood, California; Cardiac Consultant at Daniel Freeman Hospital; and as team surgeon and medical consultant for the Los Angeles Lakers. He also served as Associate Clinical Professor of Pediatrics at UCLA. His continuing basketball connections have included AAU Basketball Chairman, member of the U. S. Olympic Committee, and Commissioner of International Basketball. He founded Golden State Boys Basketball; Basketball Congress International; and the Summer Pro College High School Basketball League.
Brother Vandeweghe has also served as Chairman of the President's Council on Physical Fitness and Sports, and also on the Olympic Sports Commission where he assisted with two key pieces of legislation: Title IX and the 1976 Amateur Athletic Act. Currently he is a consultant with the United States Golf and Fitness Association. "Pal" has also authored several books and articles and occasionally provides commentary for several sports publications.
Entertainment
Brother Don Murray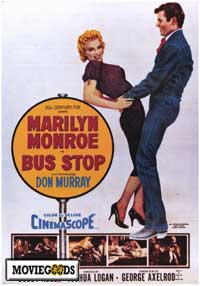 There aren't many actors who get nominated for an Academy Award for their first movie. But that was true for Don Murray. Brother Donald Patrick Murray was born on January 31, 1929, to a theatrical family. He attended EastRockaway High School on Long Island, where he played football and joined Omega's Alpha Phi Chapter in 1944, following his older brother. From East Rockaway he went on to the American Academy of Dramatics Arts in New York City. Don always remained interested in both East Rockaway and his chapter and has even given advice in recent years to young Alpha Phi undergrads interested in theatrical careers.
Don's first movie performance earned him an Academy Award nomination in 1956, as Best Supporting Actor in "Bus Stop," starring Marilyn Monroe. He has had a long and varied career in TV and films, but is perhaps best known for his role as Sid Fairgate in the long-running prime-time soap opera "Knots Landing" from 1979 to 1981, for which he also scripted two episodes. "Planet of the Apes" fans remember him as the ape-hating Governor Breck from 1972's "Conquest of the Planet of the Apes." Other notable roles were in "The Hoodlum Priest," "The Viking Queen" and "Advise and Consent." He also directed a film based on the book "The Cross and the Switchblade," starring Pat Boone and Erik Estrada.
Murray also starred with Chris Young from 1968 to 1969 in the ground breaking ABC western "The Outcasts" featuring and interracial bounty hunter team in the early post Civil War west. He is currently Chairman of the HomelessEuropean Land Program and still appears frequently in cameo roles.
Brother Hayden Rorke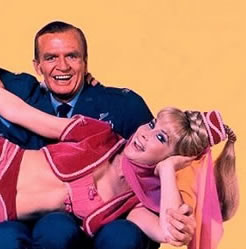 Mostly remembered for his role as Dr. Bellows on the fanciful television sitcom I Dream of Jeannie with Larry Hagman and Barbara Eden, William Henry Rorke was born in Brooklyn, New York in 1910 , he was the son of screen and stage actress, Margaret Hayden Rorke , and took his stage name from his mother's maiden name. He attended Brooklyn Prep School where he was president of the Dramatics Society, the Student Government and was initiated into Upsilon Chapter of the Omega Gamma Delta Fraternity. He continued his education at the American Academy of the Dramatic Arts and began his stage career in the 1930s with the Hampden Theatrical Company . During World War II, he enlisted into the Army , where he attained the rank of Seargent. While in the Army he made his film debut in the musical This is the Army starring Ronald Reagan.
Following the war, he left the Army and worked on Broadway and then returned to Hollywood . He would make 70 Broadway appearances in his career, in additional to some 50 films and nearly 400 TV shows. Tall, well postured and handsome with a kindly face, wavy graying hair, steely blue eyes and a friendly smile he was more prolific in films and television than people remember. Brother Rorke was instantly recognizable in roles calling for erudition and urbanity, notably in such films as An American in Paris with Gene Kelly and The Robe with Richard Burton. Some of his other appearances includes A House is Not a Home with Robert Taylor, Pillow Talk with Rock Hudon, The Thrill of It All with Doris Day, I'd Rather be Rich with Sandra Dee,Spencer's Mountain with Henry Fonda, The Unsinkable Molly Brown with Debbie Reynolds, Pocketfull of Miracles with Bette Davis, and Room For One More with Cary Grant.
He was a breeder of dogs, most particularly Basset hounds. He bred Champions and was considered an authority on the Basset hound breed. Brother Rorke died in Toluca Lake, California on August 19, 1987 at the age of 76.
Brother Frank Pellegrino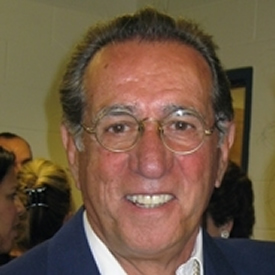 Achieving fame in two completely different worlds is a pretty unusual achievement. It is one that Brother Francis "Frank" Pellegrino has achieved in spades. Not only is he a prominent actor and one of the most famous restaurant owner in America, he is also a singer and book author.
Frank Pellegrino joined Omega's Beta Gamma Chapter at Oceanside High School in the fall of 1958 and has developed a substantial reputation acting in law and gansgster-themed film and television productions. Notable roles have included FBI Chief Frank Cubitose on "The Sopranos" and Johnny Dio on "Goodfellas." He has also appeared on "Law and Order" and in more than 40 other movies and television productions.
For some years Pellegrino has also been co-owner of his family's long-lived Rao's Restaurant in New York City. Rao's is famous or infamous for both being the hardest restaurant in New York to get a reservation for and for the notables who eat there. Famous people like Frank Sinatra "own" many of Rao's ten tables and control their use. Even when the "owner" is not sitting at the table, it is not used by anyone else without permission. President Bill Clinton has picket up a napkin here, as have New Jersey Governor Jon Corzine, New York Governor George Pataki, Mayor Mike Bloomburg and Senator (Brother) Al D'Amato. But celebrity regulars like Robert De Niro, Al Pacino, Woody Allen, Leonardo De Caprio, Billy Crystal and Rob Reiner get more of the attention. Corporate titans like Jack Welch and Ron Perelman also make frequent appearances.
In a 2002 trial, prosecutors charged that reputed gangster Gregory DePalma, a capo in the Gambino Crime Family, tried to hire a hit man to murder a rival who had tried to swipe his regular table at Rao's. That's making a point! Rao's has opened a second location at Caesar's Palace Hotel in Las Vegas. The restaurant also distributes a highly successful brand of pasta sauces and other products under the Rao's name and using its fine Italian recipes.
Frank has written two cookbooks in recent years: "Rao's Cookbook" and "Rao's Recipes From the Neighborhood." He has also produced the CD "An Evening at Rao's," featuring music from Rao's jukebox, evoking its sprit and that of the old neighborhood.  In 2009 he began touring the country with his new line of Rao Wines. 

Brother DB Sweeney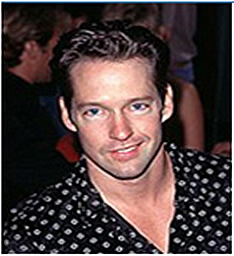 Career intentions change. When D.B. Sweeney was in high school he planned on a career as an athlete. Then he took a dare to perform in a school play late in his senior year and was hooked on a new interest.
Brother Daniel Bernard "DB" Sweeney was born November 14, 1961, the son of a school superintendent and graduated from Shoreham-Wading River High School where he was a star athlete and a charter member of Beta Tau Chapter in 1977, having previously joined Kappa Psi Chapter in neighboring Port Jefferson. At Shoreham he was a right fielder whom professional baseball scouts came to see play. And he also played ice hockey under an assumed name for another high school.
While attending Tulane University on a baseball scholarship, Danny's dream of becoming a professional player was ended when he injured his knee in a motorcycle accident. While preparing for "Eight Men Out" he was able to renew his skills playing minor-league baseball (and changing from righty to lefty for historical accuracy) with the Kenosha Twins and even wangled a tryout with San Francisco Giants.
Danny returned to New York, attending NYU's Tisch School of the Arts hoping for a career in the theater. Sweeney had decided that if things didn't work out as an actor he would become a lawyer. Upon graduation he was immediately cast in the Broadway revival of The Caine Mutiny Court Martial" and adopted the stage name D.B. Sweeney, when the Screen Actor's Guild, advised him that Danny Sweeney was already "taken."
Brother Sweeney went on to guest star on such television series as "The Edge of Night" and "Spenser: For Hire" before entering films where he was first cast as an idealistic, gung-ho Vietnam era enlistee in Francis Ford Coppola's "Gardens of Stone," which starred James Earl Jones and James Caan. He has since been cast in many male leads such as that of a hockey player turned figure skater in the hit "The Cutting Edge," timed for the Olympics. Dan is probably best remembered for the tragic Shoeless Joe Jackson in "Eight Men Out," when he was able to put his baseball skills to good effect.
Sweeney also starred in "Memphis Belle,"  "Blue Desert," "No Man's Land," "Fire in the Sky," "Spawn," "Roommates" and "Hardball." In addition to film roles, he continues to work in television. He was the first major role cast for the award-winning series "Lonesome Dove," playing Dish Boggett. He starred in "C-16: FBI," "Life As We Know It," the Science fiction series "Strange Luck" and "Harsh Realm"and has had recurring roles in the recent cult classic "Jericho." He has a new series scheduled for 2009, "Crash." Sweeney still appears in theatrical productions. In real life Danny is a close friend of actor Charlie Sheen and they have a long-standing custom of arranging bit parts for each other in films and shows in which they appear.
In May 2008, Brother Sweeney flew with HMM-364, "The World-Famous Purple Foxes" in a CH-46E while in Iraq visiting with service members and promoting his new movie, "Two Tickets to Paradise." Sweeney has also finally "graduated" out of pure acting work. He is currently working as writer and director on the new movie "Dirt Nap."
Brother Fulvio Cecere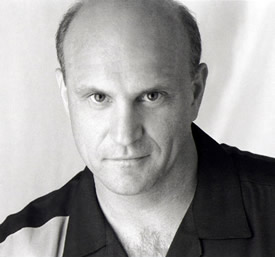 After graduating from Montclair State College Fulvio Cecere was ready to pursue his dream of become an attorney.  He attended Southwestern School of Law and then he realized that acting, not law, was his true calling and immediately started taking acting lessons at UCLA.
Fulvio Cecere attended Hawthorne High School in New Jersey where he was initiated into Omega's Beta Chapter in 1974.  Brother Fulvio was a member of the school track and wrestling teams, and was active in the school newspaper and student government.  While still in high school he was awarded the National Valor Award when he was wounded by a gun shot when he foiled a robbery in a local grocery store where he worked.
In 1978 his senior year class voted him "Best Sense of Humor" and "Class Optimist." Brother Fulvio served Beta as Chapter Vice President.  He attended the 1978 Convention in Quebec and as an alumni Brother the 1980 Convention in Toronto.
An Actor, Director and Producer Brother Fulvio has well over 100 film and TV credits.  He has appeared in major movies such as Cinderalla Man with Russell Crowe, The Hurricane with Denzel Washington, No Reservations with Catherine Zeta Jones, Deck the Halls with Danny Devito, and Double Jeopardy with Tommy Lee Jones. His television credits include Battlestar Galactica, Blade: The Series, X-Files, Outer Limits, Tarzan,Stargate SG-1, The Crash of Flight 323, and the made for TV movie Thin Ice with Tom Selleck which aired on March 1, 2009.
Look for him in the major motion picture Watchmen opening in March 2009.  Brother Fulvio plays FBI agent Forbes who is the handler of the glowing superhero Dr. Manhattan.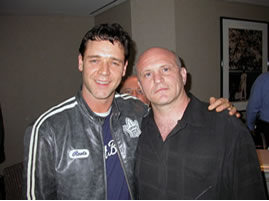 Brother Fulvio with Russell Crowe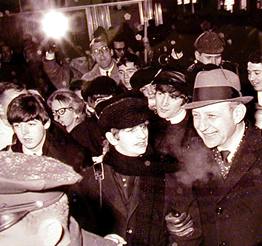 Brother Harv Moore  
Being at the right place and time makes a difference. Harv Moore was a DJ on WPGC in Washington, DC, when The Beatles arrived to perform their very first American Concert in 1964. In a group effort by all of Washington Radio, Harv had the opportunity to serve as part of the MC team that night. It was a real event!
Brother Harvey Minot Moore Jr. is now one of the real "old-timers" of music radio. He was born on October 17, 1935, and became a member of Omega's Beta Lambda Chapter at Pelham High School on January 12, 1949. After graduating from Pelham in 1953 he went to Boston University. He 

was Disc Jockey and Program Director at WPGC, Washington; Disc Jockey and Assistant Program Director at WHTT (104.1), Buffalo.
He told your writer:
"I don't think that anyone from radio realized what an impact this band would have in the years to come. No one thought to bring a camera. We did bring some of our WPGC Good Guys sweatshirts, and gave them to the band. In the months to follow there were several photos of group when they were in Miami, and John Lennon is pictured on a boat wearing one of our sweatshirts.
"At the concert that night all the deejays from the four Top 40 stations were assembled on stage to welcome The Beatles, but only one deejay from each station was selected to actually introduce the group. Our Program Director was one of them.
Just prior to the band coming on stage, the rest of us were ushered off the stage with a police escort.
The Beatles were staying at the Shoreham Hotel in D.C. After the concert, one of my fellow deejays and I decided that we were going to go to the hotel, and talk our way in.
It was a time in music and radio when deejays were more popular than the singers, so we had no trouble making our way up to their room. We just identified ourselves, and our affiliation with WPGC, and we were in!  We walked into The Beatles' room, and the group was sitting around a coffee table, eating spaghetti. Ringo looked up, and said: "Who are you guys?" We told him we were deejays, and he said, "You're not supposed to be here," and we were ushered out.
The following year, 1965, The Beatles once again played Washington Coliseum. "This time I got to introduce one of them. I introduced Ringo. Of course, no one in the Coliseum heard a word I said!"
Military Icons
At least a dozen alumni of Omega have become "general officers" in one or another of the military services during their lives. But five of them became true military icons through their service in World War II. That is a special record of which we can all be proud. Their efforts led forces spanning each of our major services: Army, Navy, Marine Corps and Air Force.
General Gar Davidson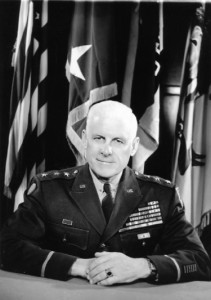 Youngest general in World War II, engineering officer to General George Patton, president of the first Nuremburg War Tribunal, commander of Task Force Davidson in Korea, reforming head of West Point. How can you ask for a more distinguished military career.
Brother Garrison Holt "Gar" Davidson, born April 24, 1904, grew up in New York City and attended Stuyvesant High School where he was a member of the New York City Championship Football Squad and was elected to Omega's Pi Chapter in 1922. It was at the insistence of his comrades in Pi Chapter that he pressed forward with his hope of winning an appointment to the U. S. Military Academy at West Point.
As a cadet at West Point he excelled on both the gridiron where he won an All-American Honorable Mention and in the classroom where he graduated near the top of his class as cadet captain and class vice president.  In 1924, Brother Davidson had the unique distinction of making the first touchdown in the brand new Mickie Stadium, still the home of Army football.  Shortly after graduation he was recalled to his Alma Mater as an assistant football coach, then as instructor in Physics and then in 1933 as youngest head football coach in West Point (or major collegiate) football history. There he endured the dubious distinction of weekly phone calls from then Army Chief of Staff Douglas MacArthur, a former Superintendent of the Academy. As a top graduate Davidson had been commissioned in the Corps of Engineers; was placed in charge of the Army's billion-dollar construction budget for ports and supply depots as it built up for the coming war and then as assistant to General Leslie Groves (of atomic bomb fame) in the construction of the Pentagon.
After the war actually opened he became Engineering Officer to General George Patton in West Africa and Sicily. His promotion to Brigadier General at the age of 39 required special action by Congress to waive the limitation on rank for engineers. Gar was then tapped as an aide to Supreme Commander Dwight Eisenhower in the planning of the second-front invasion of France from the south. Brother Gar like to relate how he had worn his Omega pin on the reverse side of his collar, beneath the star given to him by General Patton, throughout most of the war. Omega's emblem was present at some of the great allied victories in World War II.
As the war concluded, Gar was appointed as President of the first German War Crimes Commission and presided over the first mass trial of German war criminals at Nuremburg. He is the man who issued the key decision that "superior orders" were no defense. After several years as chief of staff to General Mark Clark, he was in Korea when the invasion from the north began and built the defenses of the Pusan Perimeter and then as commander of Task Force Davidson led the break out to link up with the invading forces at Inchon and, in fictionalized form, become the central event in WEB Griffin's best-selling Brotherhood of War novels. In a supreme irony, Air Force defense of Pusan from overhead was under the command of General Emmett O'Donnell, Mu Chapter, who had been one year behind Gar at West Point and whom Gar had befriended through "beast barracks," becoming best friends in the process. Gar ended his Korean service as commander of the Korean Military Assistance Group.
Now a Major General, Gar moved on to becoming the reforming head of the Army's Command and General Staff College in 1954 and then from 1956 to 1960, as Superintendent of West Point where he orchestrated the most far-reaching revision of the curriculum since its founder under Superintendent Sylvanus Thayer in 1806.
From 1960 to 1962, he headed the Seventh Army in Germany during the Berlin and Cuban Missile Crises and from 1962 to 1964, was head of the First Army and U. S. military representative at the United Nations. His final duty was to escort the widow of General Douglas MacArthur at MacArthur's funeral. (In another irony, Davidson and MacArthur had spent the night of MacArthur's wedding talking about Army football in MacArthur's suite at the Waldorf-Astoria!) Following retirement Gar headed up administration at the University of California and was CEO of the Embarcadero Center, a San Francisco think-tank.
Brother Davidson died on Christmas Day 1992, and was buried in "Professor's Row" at the Academy two months later. On that occasion, in private remarks, then Superintendent Howard D. Graves (who had been a student under Gar) related Gar's last request to the Academy, that the inscription on Douglas MacArthur's monument be altered to reflect his complete (and more edifying) quote: "In war, there is no substitute for victory." Graves had been able to report back to Gar on the successful completion of this mission just before his death. Following his death, his widow wrote to the fraternity: "You can't imagine how many times Gar spoke in glowing terms about his Brothers in Omega."
In May 2008, the Academy announced creation of a new Oral History Center to be named in Gar's honor.
General Rosie O'Donnell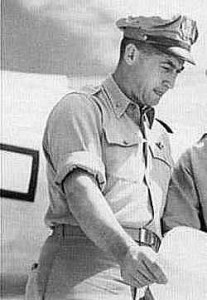 On November 24, 1944, an Omega brother commanded the first air attack on Tokyo since the famed Doolittle Raid of April 1942. Brother Emmett "Rosie" O'Donnell Jr. led the 79th Bomb Wing,

 

a force of B-29

Superfortress aircraft

,

 in a bombing raid over the enemy capital.
Brother Emmett "Rosie" O'Donnell Jr., was born September 16, 1906, and graduated from Brooklyn's Manual Training High School where he became a member of Omega's Mu Chapter. He went on to the United States Military Academy where he graduated in 1928. Excelling in football, he played substitute halfback for All-Americans Harry Wilson and Chris "Red" Cagle at West Point. Best friend of "Gar" Davidson, he returned to the Academy in the 1930s as one of Gar's assistant coaches.
As Japanese designs in Southeast Asia became apparent in the fall of 1941, the Army Air Force sent air reinforcements to General Douglas MacArthur. Major O'Donnell and his 14th Bombardment Squadron set out from Hickam Field

 to the Philippines via Midway, Wake, New Guinea, and Australia September 

5. A week later all nine of the B-17s landed at Clark Field, Manila. This was the first mass flight of land planes to cross the western Pacific from Hawaii to the Philippines.
When the invasion actually came in December, Rosie led his unit in air defense and then, after his planes had all been destroyed, on the ground during the retreat to Bataan. He earned his first Distinguished Flying Cross two days into the war. Eventually he led the remainder of his squadron to Java and then to X
During the War, Rosie also chaired the AF Advisory Council to General Hap Arnold, Chief of Air Force Staff and the war as Air Force Director of Information from 1946 to 1948. He was then commander of 

the 15th Air Force when it defended the air over the Pusan Perimeter in the opening days of the Korean War. 
Major League Baseball made an effort to steal Rosie away from the Air Force when it elected him as Commissioner of Baseball in August 1951, to succeed Happy Chandler . To no one's surprise, President Truman refused to release him from active duty in the midst of the war.
He then went to the Pentagon as Deputy Chief of Personnel and rounded out his military career from 1959 to 1963 as Chief of the Pacific Air Forces as they built up for the Vietnam Conflict. After retirement he was elected as President of the USO.
Rosie's major military awards include the Distinguished Service Cross (earned for heroics defending the Philippines in 1941-1942), Silver Star, four awards of the Distinguished Flying Cross, Korean Military Service Medal with Silver Star (Taeguk) and Honorary Companion of the Military Division of the Most Honorable Order of the Bath. In his official biography, the Air Force notes the he was one of its "most colorful" generals. He died on December 21, 1971, and is buried at the Air Force Academy.
General Joe Swing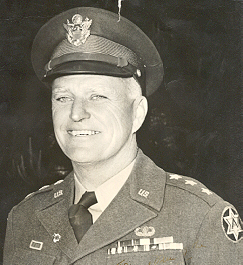 An Omega was the first American soldier to land in Japan as World War II ended in 1945. This capped a wartime career that earned him recognition as one of the "Fathers of the Airborne." Not a bad nickname.
Brother Joseph May Swing was born on February 28, 1894, and attended Barringer High School where he joined the Ramblers and was one of its senior members when it joined Omega in late 1910. He went on from there to West Point where he was a classmate of Generals Dwight Eisenhower and Omar Bradley. During his early career he far outpaced both, serving in the 1916 invasion of Mexico, as an artillery captain in France and then as chief aide de camp to General Peyton C. March, Army Chief of Staff (a job Eisenhower had 15 years later).
Between the Wars, Swing went back to his artillery specialty with stints as Artillery Commander of the 1st Cavalry, Chief of War Plans in the Office of Chief of Field Artillery and finally as Artillery Commander of the 82nd Infantry. It was this last position that brought him to "Airborne" when the Army decided to use the 82nd for airborne experimentation and re-designated it the 82nd Airborne. Joe's job was to figure out how to land not merely individual infantrymen, but the entire equipage of an Army Division.
From there Swing went on to command the new 11th Airborne Division; then to become Eisenhower's airborne advisor at the time of the Sicily invasion. When he returned to the U. S., he resumed command of the 11thand did additional duty as head of Airborne Command the overall coordinating body for airborne forces and to run the Pentagon's evaluation of the airborne program ("The Swing Board"), which pointed out both its strengths and weaknesses. Joe eventually led the 11thAirborne into the Pacific Theater. The Swing Report and the results of a war game, commonly called the "Knollwood Maneuver" and conducted by Swing saved the airborne program, which Chief of Staff Marshall had been ready to dissolve.
When the moment of truth came for the 11th Airborne, it was actually on land. The 11th came ashore on Leyte Island after the initial landings in November 1944, and, at the end of January invaded Luzon with both amphibious and parachute landings. Swing's force was the key to the capture of Manila and then the paratroop capture of Corregidor. Another parachute landing and the capture of the Japanese prison camp at Los Banos followed this success, earning the division the nickname "The Angels." And finally came the big moment. After the Japanese had announced their intention to surrender, Joe Swing was the first man off the first American aircraft to land in Japan, at 6:05 AM on August 30, 1945. Eight hours later General Douglas MacArthur arrived at Atsugi Airfield to be met by Swing and an honor guard. World War II had effectively ended, with the formal surrender coming on September 2, in Tokyo Bay.
Following World War II, Brother Swing commanded the First Corps, the Army War College and the Sixth Army before retiring in 1954. President Eisenhower then appointed him as Commissioner of the United States Immigration Service and he continued in that position under President Kennedy. Brother Swing died at the age of 90 on December 9, 1984.
Commodore Ellis Stone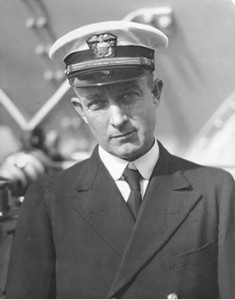 Not many people live to see themselves portrayed as the hero of a major movie, Ellis Stone did. While still serving in World War II he was able to watch famed actor Raymond Massey play a character based on his in "Action in the North Atlantic." He was even able to act as consultant on the actual film!
Brother Ellis Spencer Stone was a member of the Gamma Delta Phi local fraternity at Manual Training High School that later became Omega's Mu Chapter, carrying with it an already substantial alumni body including such other notables as Bert Hendrickson. He was born in Brooklyn on August 31, 1889, and graduated from Manual before moving on to the U. S. Naval Academy at Annapolis, from where he graduated in 1911.
During WW I, as a Lt. Commander, Stone served on the battleship Arkansas. After the war he commanded the gunboat Isabel on the Yangtse River in China. From there he went on to be U. S. military attache in Paris and returned to be given the considerable mark of respect of being named the first regular Captain of the ship named for his home town, the cruiser U. S. S. Brooklyn.
While Captain of the Brooklyn, Stone was designated as Commodore of the force protecting the large convoys linking the U. S. to Britain. It was his role in this key effort that led to the movie "Action in the North Atlantic." From there he was assigned as acting commandant of the Panama Sea Frontier, Commander of the 15th Naval District,
and 
assistant chief of staff of the Third Naval District. He was on t
he list to become an admiral in these positions, but developed a heart condition and had to retire in September 1944, eventually dieing of his heart ailment February 26, 1956.
In another indication of how prominent Stone was within the naval establishment, his wife was selected to be "sponsor" (to christen) the U. S. S. Panay, a Yangtse River gunboat on November 10, 1927. The Panay became a big name 10 years later, when it was sunk by the Japanese on December 12, 1937. The Panay Incident nearly started World War II, four years before it actually erupted.
General Dave Brewster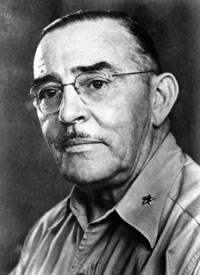 Preparing a military unit is often as important as actually leading it into battle and Dave Brewster has the distinction of being in charge of training the First Marine Division prior to the invasion of Guadalcanal.
Brother David Lukens Shoemaker Brewster was born December 12, 1887 and graduated in 1908 from the McKinley Manual Training High School in Washington, DC, where he was an early member of Omega's Eta Chapter. From there he went to the Army and Naval Academy in Washington and then into the U. S. Marine Corps in 1910. He was an usher at the 1916 wedding of future Marine Corps Commandant Thomas Holcomb.
Before World War I, he was one of the earliest Marine Corps aviators and holds USMC Aviation license Number 6 (and Naval Aviator Number 55). By the opening of World War I he was a pilot for fixed wing aircraft, dirigibles and balloons. As an anti-submarine pilot in the Azores, he commanded the First Marine Aeronautic Company in World War I.
After the war, he switched into ground service and was actually captain of the Marine Corps Rifle and Pistol Team. He served in Nicaragua from 1928 to 1929 and became chief of staff of the First Brigade in 1938 advancing to chief of staff of the First Marine Division and then to temporary commanding officer during its training period and prior to the assumption of office of General A. A. Vandergrift who led the division onto Guadalcanal. He was later Deputy Commander to General Vandergrift at the First Marine Amphibious Corps.
Dave Brewster became ill in 1944 and had to leave active duty, dying on July 10, 1945 and being buried at Arlington. He is one of only four active duty Marine Corps generals to die during the course of World War II.
Business & Politics
Brother Bob Annunziata

In this day and age, a Chief Executive Officer of a major corporation without an MBA degree is extremely rare. Brother Robert "Bob" is that rare individual and even more; he never attended a day of college in his life.
Bob was born April 25, 1948,and was initiated into Omega's Chi Beta Chi Chapter at H. Frank Carey High School on February 26, 1963. Following high school he went to work as a telephone lineman for AT&T and steadily moved up the ladder in the communications industry over the years since. He is generally recognized as a pioneer of competitive telecommunications and is generally acknowledged as the founder of the competitive local exchange carrier (CLEC) industry.
Brother Annunziata founded the first and largest CLEC, Teleport Communications Group, in 1985, and served as its chairman and CEO for 13 years. TCG's regional fiber optic networks spanned some 10,000 route miles connecting 85 major U. S. metropolitan areas. It specialized in serving banks, stock exchanges, financial and brokerage institutions, newspapers and wire services, television networks, schools and universities, governmental agencies, healthcare institutions, long distance carriers, and medium and small sized businesses.
In 1998 AT&T purchased TCG for $12 billion, with the express purpose of retaining Bob's services. After the merger of TCG into AT&T, Annunziata accepted the post of Executive Vice President of AT&T and President of AT&T's business services group, which was responsible for their global network and for providing voice, data and internet services to some eight million customers worldwide.
TCG's annual "Holiday Calls" program, inaugurated by Bob in 1988, to provide free long distance phone calls for senior citizens was continued by AT&T and celebrates its twentieth anniversary this year. The program has expanded from its New York origins into a nationwide event that currently hosts more than 11,000 participants and has cumulatively provided free calls to more than 90,000 senior citizens since 1988.
When Bob left AT&T, The New York Times offered the opinion that it was a sign of big trouble for the future of the telecommunications giant. After leaving AT&T he became CEO of Global Crossing Ltd., where he built the world's first global fiber optic network and increased employment from 140 to 14,000. He left Global Crossing when he saw some of the questionable financial projects of its principal owner and has since served variously as Chairman pf Velocita.com, Simpler Networks, Tropic Networks and Pacific Crossing, Ltd. Brother Annunziata has also served as President of the World Teleport Association which promotes the concept and development of teleports worldwide.
Brother Annunziata is a member of the New York City Partnership and has served on the Board of Directors of the YMCA of Greater New York. In November 1997, the New Jersey Technology Council honored Annunziata and TCG as "The Communications Company of the Year" for his contribution to the telecommunications infrastructure of New Jersey. He was a member of the New York City Commission on the Redevelopment of Naval Station New York, the New York governor's advisory board on telecommunications and the New York City Mayor's Alliance for International Business.
In 2001, Bob was interviewed for Sodalitas and said, in part:
"Omega helped all of the brothers develop their social skills which make for real success in later life. We learned the give and take of discussion and debate as we balanced individual desires with the chapter's needs. We grew skills which made us better able to deal with the world in all walks of life. My fondest memories of high school are wearing my Omega jacket or sweater. Of greating brothers in the hall with a proud Omega shake. Of really bonding together with a small group of real friends. And it's stayed with me since. I still get together with my high school brothers once or twice a month."
Brother James R. Borynack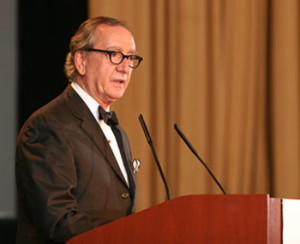 James R. Borynack, owner, chairman and CEO of Wally Findlay Galleries International, Inc., of Palm Beach, New York, London, and Paris attended Valley Stream Central High School where he was initiated into the Alpha Psi Chapter of Omega Gamma Delta Fraternity in 1962. After high school Brother Borynack served as Grand Vice Princeps while attending The Parsons School of Design in New York City .
In late 1998, Brother James Borynack purchased Wally Findlay Galleries in New York , having already been its Director and Senior Vice President. His relationship with the company began in 1972, when he was hired as a salesman after having served as a partner in De Noyer, a boutique specializing in European high-fashion imports. An art dealer serving individuals, institutions, and corporate collectors, Wally Findlay Galleries International was founded in 1870. During its history, Wally Findlay Galleries has represented numerous schools of art, from Barbizon to postmodernism. Today, with galleries in New York, London and Paris, in addition to its flagship premises on Worth Avenue in Palm Beach, Florida, it specializes in Impressionist and Postimpressionist masters, and is considered one of the world's leading dealers in paintings by the school of Rouen (France).
Brother Borynack has also worked in various government-related positions, including Cultural Attache and Ambassador for Republicans Abroad International. Additionally, he served as North American President of the auction house Phillips Sons & Neal; President, The China Group; President, Borynack Publishing Company; and Guest Lecturer, Wharton School ,University of Pennsylvania .
Well known nationally for his philanthropic efforts he continues his company's tradition of philanthropic commitment with several national and regional cultural and charitable organizations. Brother Borynack is Chairman of the Board of Trustees of the National Hospice Foundation, has been a board member of the Children of Bellevue of Bellevue Hospital Center for over 33 years, serving three terms as president , Co-founder, STAGES, Children's Theater workshop, Board Member, Miami City Ballet, and Board Member,Florida Philharmonic Orchestra. Brother Borynack is also included in Who's Who in the East.
Brother Charles A. Gargano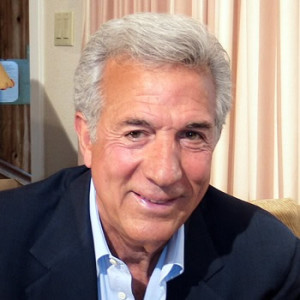 From humble beginnings to being chairmen of the most powerful economic development agency in New York and a United States Ambassador, Brother Charles A. Gargano was initiated into Omega's Mu Chapter at Manual Training High School in Brooklyn, NY in 1949.  A graduate of City College of New York Brother Gargano's achievement in business has earned him a place in Who's Who in America and Who's Who in the World.
Brother Gargano, a licensed professional engineer, served as Chairman of the Empire State Development Corporation of New York State (ESDC) and Commissioner of the Department of Economic Development from 1995 to 2007.  The ESDC, promotes as well as oversees various development projects and promotes economic development throughout the state.  The ESDC is also charged with reviewing the viability of the projects, since there are public subsidies involved, and in reviewing the environmental impact of such projects.
He also has served as Vice Chairman of the Port Authority of New York and New Jersey, and as the deputy administrator of the Urban Mass Transportation Administration, where his policies included the improvement of mass transportation across the U.S.
Gargano is currently a partner at Greenview Realty Corporation, which specializes in luxury residences and is on the Board of Directors of  Perf Go Green Holdings, Inc.
Though he has had a successful business career, Brother Gargano is also well known for his job as a prodigious fundraiser for Republican candidates like President Ronald Reagan, Sen. (Brother) Alfonse D'Amato, and Gov. George Pataki. Under the administration of President George H.W. Bush, he was named ambassador to Trinidad & Tobago.
United States Senator Alfonse M. D'Amato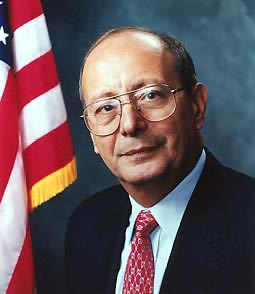 Brother Alfonse M. D'Amato was born in 

Brooklyn and raised on Long Island. He is a graduate of Syracuse University, and Syracuse University College of Law. He was inducted as an honorary brother into the Beta Gamma Chapter of Omega Gamma Delta in 1972. His political career started with the Nassau County Republican Party, and he held the appointive position of Public Administrator of Nassau County. He was first appointed and then elected Receiver of Taxes

 of 

Hempstead, New York. He left this office to become a town supervisor

 in Hempstead and in 1977 he was elected presiding supervisor.  As a rather obscure candidate, he defeated incumbent Sen. Jacob Javits in the 1980 Republican 

primary election. D'Amato drew the nickname Senator Pothole for his delivery of "constituent services," helping citizens with their individual cases. 
Senator D'Amato also holds the record for the second and seventh longest filibusters ever recorded in the United States Senate. He is remembered for his unique and rather comical filibusters. In 

1986, a filibuster he conducted against a military bill lasted 23 hours, 30 minutes and he was known for reading the District of Columbia phonebook during a filibuster. On another occasion he once filibustered a bill that would have caused the loss of 750 jobs in upstate New York by singing "South of the Border."
He was a member of the President's Commission on Aviation Security and Terrorism (PCAST), which was set up in September 1989 to review and report on aviation security policy in light of the sabotage of Pan Am Flight 103 on December 21, 1988.
While he was in office, he was chair of the powerful Senate Committee on Banking, Housing and Urban Affairs, and was a member of the Senate Finance Committee

. As a member of the former, he became a leading critic of the 

Clinton administration

 regarding the 

Whitewater scandal, and during 1995 and 1996 chaired the hearings of the Senate Special Whitewater Committee. As a member of the latter, he championed the cause of Holocaust survivors trying to recover relatives' funds from accounts in Swiss Banks.
Brother D'Amato was known for being fairly 

conservative, a reflection of then conservative-leaning Nassau County, yet very popular among some of New York's liberal voters. He strongly supported the conservative positions of his party on "law and order" issues such as capital punishment and harsh penalties for drug offenses. On some issues he agreed with the opposition.  In fact, in the 1998 election

, D'Amato was endorsed by the Human Rights Campaign over socially liberal Democratic Congressman Chuck Schumer. On labor issues too he frequently sided with Democrats.
After 18 years as a United States Senator he became a correspondent for 

George Magazine

 until it ceased publication in 2001, and was also a commentator on 

Fox News. He is now President of Park Strategies, serves as Chairman of the Board of the Poker Players Alliance, and regularly appears on NY1 TV's "Inside City Hall" and the "Fox News"program to discuss political issues of the day.
The Alfonse M. D'Amato United States Courthouse – an 11-story, 733,000 sq. ft. federal government complex located in the town of Islip, New York was named for him in 2002.
Brother James S. Wassel
Brother James S. Wassel was initiated into the Beta Chapter of Omega Gamma Delta Fraternity in Hawthorne, New Jersey in 1965.  He received a BA and MA from Montclair State University.  Brother Wassel has had extensive experience in strategic planning, asset management, and commercial real estate he currently serves as President of Sandy Hook Partners, the company responsible for the historic rehabilitation of Fort Hancock in partnership with the National Park Service.
His professional resume includes: President and CEO of Horizon Group, Inc., where he oversaw all of development and operations and interfaced with Wall Street.  He also served as a trustee and Senior Vice President of Asset Management with Crescent Real Estate Equities of Fort Worth, Texas, where he oversaw asset management, strategic planning and implementation of value enhancement programs for Crescent's 30 million square foot portfolio of commercial real estate.
 Partner and Director of Asset Management with Trammell Crow Realty Advisors of Dallas, Texas. While with Trammell Crow, Jim oversaw the disposition of $250 million in assets, the redevelopment of other portfolio properties and was responsible for the asset management of a portfolio of over $3.0 billion in assets. In addition, Brother Wassel also served as President of Trammell Crow Real Estate Investors, a REIT, where he oversaw the revitalization of that company's under-performing industrial and office properties.
He served as Partner/Director of Asset Management with Jones Lang Wootton Realty Advisors of New York, where Jim oversaw the asset management and administration of a $1.0 billion portfolio of diversified assets on behalf of public and corporate pension funds and served as President and Chief Operating Officer of JLW Management Group.
 Brother Wassel served as a Vice President and Chief Operating Officer with The Rouse Company, where he directed the management of Rouse's centers in the Northeast United States and oversaw development and re-merchandising efforts at Rouse's South Street Seaport (New York), Faneuil Hall (Boston), Willowbrook Mall (Wayne, New Jersey) and Paramus Park Mall (Paramus, New Jersey) properties.                                    
In his early career, Jim taught history and economics and coached football at the Park Ridge High School in Park Ridge New Jersey.
His professional affiliations include the National Association Real Estate Investment Trust, International Council of Shopping Centers, and The Jersey Shore Partnership. Additionally, Brother Wassel is a Director of the Alumni Board for Montclair State College and the Educational Advisory Board for Lehigh University. He is chairman and president of the Alliance of Neighbors, a Monmouth County charitable organization that provides support to the victims and survivors of the World Trade Center attacks of September 11th.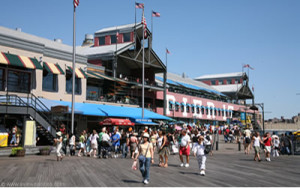 Brother Wassel served as Vice President and Chief Operating Officer with the Rouse Company where he oversaw the development of the South Street Seaport in New York City.
The World of Music
Brother Jerome Kern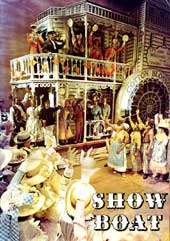 "Jerry" Kern is known throughout the world as the "Father of American Musical Theatre" on Broadway and nominee for eight Oscars in Hollywood. He started his career early, while still a student at Barringer High School in Newark, New Jersey. His first show was a minstrel show staged by the "Unique and Independent Order of the Ramblers," a group organized by the boys of his class, 1902. The presumption is that he was one of the earliest members of the Ramblers, though no complete membership list survives "" but a picture of the Ramblers published in The Acropolis newspaper in May 1902 certainly looks like it includes a young Kern.
The Ramblers older members continued in active association with the group after it became Kappa Chapter of Omega Gamma Delta in 1910 and there is in existence a report of a meeting held at the home of a "Brother Kern" during the 1920s. As no other Kerns appear on the Barringer student roster, the odds are overwhelming.
Jerome David Kern was born on January 27, 1885, and died on November 11, 1945. He would have joined the Ramblers sometime late in 1901 or early 1902 and wrote their musical that spring. However, Kern didn't actually get his diploma, but drifted off before the end of the year to enroll early in the New York College of Music (then part of NYU). He also briefly studied music in Heidelberg, Germany.
As early as 1903, two of his songs were added to a British musical imported to Broadway and in 1904 he was able to write almost half the music for another. His first "hit" was "How'd You Like To Spoon With Me" in 1905.
Between 1905 and 1915 Kern spent considerable time working in the London musical theatre as well as New York, where he was one of he founders of ASCAP (American Society of Composers, Authors and Publishers). His final return to London was almost his last trip anywhere. He was booked to leave New York on the Lusitania on May 1, 1915, but missed his sailing because of waking up late after a party the night before. The Lusitania was sunk by a German U-Boat just before arriving in London!
During the War he wrote a number of Broadway shows including the major hit Very Good Eddie. This continued through the 1920s. In those days, Broadway musicals were long on music and show, but very short on story. Kern earned his title "Father of the American Musical Theatre" by changing that dynamic.
In 1927, Kern and Oscar Hammerstein adapted Edna Ferber's book Show Boat to the Broadway stage and completely changed the culture. From then on Broadway shows told complete stories. For this production, Kern reused much of the musical material he had first written for the Rambler's Musical at Barringer. There is no clear record of which songs were actually reused, but Omega enjoys the pleasing "conceit" that "Ol' Man River" was actually written for our Newark organization in 1902. No one can dispute this claim even if it can't be proved.
Over all, Kern composed some 1,350 songs and, after he moved from Broadway to Hollywood in the 1930s he was nominated for eight Academy Awards, including two "Best Song" winners: "The Way You Look Tonight" and "The Last Time I Saw Paris."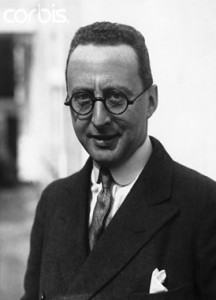 One reason to believe that Kern remained tied to his Omega connections lies in his association with Dr. Oliver L. Austin Jr. of Rho Chapter. After he moved to Westchester in the 1920s, "Ol" Austin, a prominent ornithologist, quickly became one of his closest social friends even though living several towns away. Kern's own favorite song "I've Told Every Little Star" was actually written in conjunction with Austin and was based on the actual bird song of the Cape Cod Sparrow. It was the last song Kern ever heard, sung to him by Oscar Hammerstein in his hospital bed as he lay dying in 1945. Austin was one of the principal mourners at Kern's funeral.
Brother Aaron Copland
Far more uncertain is the question of Aaron Copland, one of America's greatest composers. Copland attended Boys High School, where he graduated in 1918. He was active in various musical groups with known members of Alpha Chapter; there is a reference to a "Brother Cop" in Alpha records (and no evidence in BHS yearbooks of the period of someone else whose name started "Cop"); he generally fits the Alpha group profile of the period with one exception: he was Jewish.
But, official policy of the fraternity to the contrary notwithstanding, by the time in question Alpha Chapter had long gotten beyond this issue. When the fraternity was founded, it did not accept Catholics until two years later it had the chance to get Billy O'Connell, at the time the generally considered "best schoolboy athlete" in New York City. And in 1911 it had elected Ira David Strasser: All-city football star, captain of tennis, baseball player, head of various student organizations including the Athletic Association, and Jewish. And then it elected him chapter Princeps as well. Qualifications trumped race and religion. Over the years this was an issue on which many chapters bucked the official rule before it was changed in the 1950s.
However, recent investigations have narrowed the scope of "missing names" from Alpha's lists, which used to be full of gaps. Gaps still exist starting in 1916, but there are a lot less.  This is also the period of such influential Alphas as Henry J. Benisch, Fr. Cyril J. Meyer, Rev. Seth R. Brooks and architect Viggo F. E. Rambusch, the last three as actual classmates with Copland in the Class of 1918. It was a period in which Alpha was both diverse and attracted men of considerable intellectual and cultural prowess.
Aaron Copland was born November 14, 1900, and died December 2, 1990. He was of Lithuanian descent and a secular Jew. After completing Boys High School in 1918, he studied piano and composition with Rubin Goldmark and with Nadia Boulanger in Paris. He held a Guggenheim Fellowship in Europe for two years, 1925 and 1926.
Copland's music was strongly influenced by Igor Stravinsky and American Jazz. Among his more important works are: "Fanfare for the Common Man," "A Lincoln Portrait," "Appalachian Spring," and "Rodeo." Starting on 1939 he generated musical scores for many Hollywood movies and was nominated for four Academy Awards, receiving one in 1947. He received a Pulitzer Prize for "Appalachian Spring" and the Presidential Medal of Freedom. Many prominent American musicians studied with Copland and he was the principal mentor of Conductor/Composer Leonard Bernstein. He is frequently called the "Dean of American Composers."
Brother Kim Gannon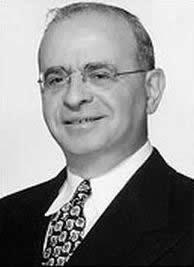 As American troops slogged across Europe and the Pacific during World War II, one piece of music from home was carried along: "I'll Be Home For Christmas." Like several other iconic songs in World Wars I and II (It's a Long Way to Tipperary, Lili Marlene, God Bless America, Keep the Home Fires Burning, Mademoiselle from Armentieres, Over There) it captured the longings of millions of servicemen far from home on both sides of the battlefield.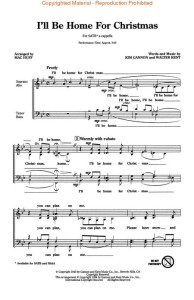 This overwhelmingly powerful and nostalgic song was the work of "Kim" Gannon of Omega's Iota Chapter.
Brother James Kimball "Kim" Gannon was born on November 18, 1900, and attended Montclair High School in New Jersey where he joined Iota Chapter on March 15, 1917. From Montclair he went on to St. Lawrence University and then to the Albany Law School. Though a lawyer, he found his literary interests to be greater and started writing songs in the late 1930s.
His first successful pieces were "For Tonight," "I Understand" and "Moonlight Cocktail" in 1939, 1941 and 1942. He followed this in the fall of 1943 with "I'll Be Home For Christmas" with his long time musical associate Walter Kent. Recorded by Bing Crosby (and later, Perry Como), the sentimental work earned Crosby a Gold Record and quickly became the most requested piece of music by American servicemen overseas. It has been re-recorded numerous times since and still stirs audiences away from home.
In 1949 "A Dreamer's Holiday" actually appeared on the Billboard charts in two versions at the same time (Perry Como at Number 4 and Buddy Clark at Number 15). Most of his work was for Hollywood films (being nominated for one Oscar) but included one minor Broadway production, Seventeen. Among his later works were "Under Paris Skies," "Five O'clock Whistle," "Johnny Appleseed" and, finally, Brenda Lee's "I Want To Be Wanted" in 1960.
Kim Gannon died on April 29, 1974, and the copyrighted royalties on "I'll Be Home For Christmas" still generate considerable income for his alma mater, St. Lawrence.
Journalistic Giants
Famous and infamous. Omega's journalists have ranged from one invited to address a Joint Session of Congress to one condemned by Congressional resolution as a "traitor" for his writings. From a Pulitzer Prize to universal condemnation by his contemporaries, it is quite a range.
Brother Edward Lyell Fox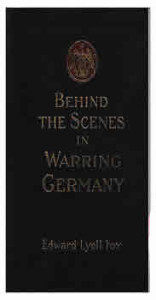 Though he is no longer widely remembered, an Omega, Edward Lyell Fox of Epsilon Chapter, was once one of the most quoted of American journalists and then, in a flash, one of the most maligned. He was one of the earliest initiates of the chapter and its establishment and graduated in 1908. At the High School of Commerce he was a member of the football and basketball squads, managed the basketball team and was a member of the Executive Committee of the Athletic Association. From Commerce he went on to Rutgers University.
Following Rutgers, Fox immediately went into journalism, first with The New York American and then with The New York Sun. He then became a reporter and Vice President/Managing Editor of the Wildman Magazine and News Service and it was in that guise that he became one of the earliest American war correspondents in World War I, reaching Europe in the fall of 1914. Fox's work took him to the German side of the war front and he seems to have become quickly enamored of the German position on the war.
Over the next three years Fox became the principal source for American information on what was happening behind German lines. Using his developing contacts, he generated hundreds of newspaper columns and magazine articles, two books and even three documentary films. His flamboyant character and swashbuckling exploits made him a popular figure back home. However, he seems to have become increasingly more pro-German and was even induced to provide ideas to the Germans to support their propaganda in the U. S. It wasn't surprising that this came back to haunt him after the United States joined the allies in mid 1917.
When America entered the war, Fox joined the Army and became a captain with the 349th Field Artillery, the first African-American artillery unit. In France he was the victim of a gas attack and never completely recovered. This was followed, in the summer of 1918, by a scandal in which Congress held formal committee investigations of Fox, Hearst Publications and its Berlin correspondent Dr. William B. Hale and various other individuals. Fox was asked to resign his Army commission, but nothing illegal was ever proven against him.
During the next two years, Fox appears to have wandered across most of eastern Europe writing and becoming involved in relief work. It has been claimed in recent times that he was involved in a plot to free the Russian Imperial Family, obviously without success. Whether accurate or not, the stories reflected Fox's derring-do reputation. It is asserted that Edward Lyell Fox died on January 30, 1920, at the age of 32, in New York City, but it appears that a good many people believed otherwise, including the editors of Who's Who in America who continued to list him as alive as late as the beginning of World War II. So the possibility remains that Brother Fox assumed another identity and continued his life as a writer under another name. In addition to his journalism work, Edward Lyell Fox wrote three books and a large number of short stories on a wide variety of subjects.
Brother John Crider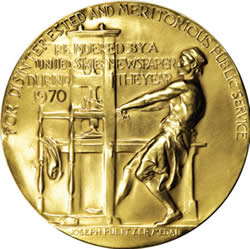 Pulitzer Prizes remain very special. A journalist who has received one is clearly at the top of his profession, and one of Omega's was.  John Henshaw Crider was born on February 26, 1906, and became a member of Omega's Rho Chapter at A. B. Davis High School in Mt. Vernon early in the 1920s. He left Davis for Fishburne Military Academy in Virginia, where he edited the school newspaper and then went on to Virginia Military Academy.
After two years at VMI, Crider switched directions entirely and transferred to the School of Journalism at Columbia University in New York. While at Columbia he worked part-time for The New York Times and impressed the editors sufficiently that he was hired by the Times immediately upon graduation in 1928. He started out as Westchester County Correspondent and then moved to the Washington Bureau, where he remained until 1946, with two years out, one as the Times first staff member to earn a Nieman Fellowship at Harvard and the second as Economic Correspondent of Time Magazine.
In 1946, John was tapped to become Editor in Chief of The Boston Herald. At the Herald he earned a reputation as a hard-hitting writer of editorials and won his Pulitzer Prize. He also ran up against a very partisan Publisher and resigned in a dispute over editorial policy in 1951. For two years he was a correspondent for CBS News, then was Assistant Editorial Page Editor of Life Magazine, then Washington Correspondent for Barron's Weekly and finally London Diplomatic Correspondent of the International News Service.
He switched out of journalism in 1957 and served for the next eight years on the Committee for Economic Development and as U. S. Delegate to the NATO Atlantic Congress. In 1964 he became an economics writer for Morgan Guaranty Trust and died on July 8, 1966 at the young age of 60. John was author of the book, "The Bureaucrats" and a Fellow of the American Academy of Arts and Sciences.
Brother Bob Donovan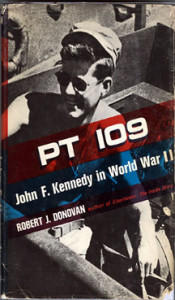 President of the White House Correspondents' Association; Chief of the Washington Bureaus of two major newspapers; author of biographical books on three 20th Century American Presidents; the only journalist to ever address a Joint Session of Congress; Professor at Princeton University without ever having attended a day as a college student in his life.
Robert John Donovan was born in Buffalo, New York on August 21, 1912, the son of a prominent local businessman. It had been his father's intention to send him off to Hotchkiss and Yale in order to become a doctor, but the Depression got in the way. And in Buffalo the Depression was far worse than in most of the country "" Buffalo already had a shrinking economy when the Depression intervened. In the words of Donovan to Omega many years later: "Buffalo was a good city to grow up in, yet, like every place else, the Great Depression was dreadful, in our family it was a catastrophe.
So there was no money for private school or Yale. Instead, Bob attended Lafayette High School on the Westside of Buffalo and supplemented his shrinking allowance with odd jobs. At Lafayette he was Captain of Hockey and ran Track, was an Honor Student, wrote for the yearbook, involved in Dramatics and the Debate Team and held the title of Champion Orator of Buffalo. Among his other distinctions was election to Alpha Beta Chapter, which he joined on May 25, 1930.
Graduating from Lafayette his principal, "Cap" Mellen, used his very considerable local influence to get him a vacation time job as a night copyboy for the Buffalo Courier-Express. When the summer ended, he was surprised to be kept on "" but at a pay cut that brought him down to $6.30 a week. But he was in the door and gradually moved up the ladder as a reporter in his hometown.
Bob knew that Buffalo was no place to build a journalism career and laid siege to the editors of the New York Tribune starting early in 1935. After more than two years of visits to New York and regular submission of gradually more impressive examples of his writing, he dropped in on City Editor Charles McLendon unexpectedly at Thanksgiving 1937. "I have never been able to understand what came over him. He brightened up when I approached his desk. "˜Let's go over to the Greek's and have a beer,' he said. The Greek's was an ordinary bar and grill across West Fortieth Street from Bleeck's, a saloon that was celebrated as the after-hours club of the Herald Tribune staff. Over beer, McLendon told me he thought he had a place for me. I scarcely had time for elation when he inquired, "Where did you go to college?' I felt like the guy on the slab in the morgue. Of course the Tribune would insist on a college degree. I explained to McLendon why college had been out of the question for me. Again, he astonished me. My answer delighted him. He beamed. This was the warmest our relationship had been. Finish the beer, he told me. We are going back to the office so he could introduce me to the managing editor, Grafton Wilcox." Despite his lack of formal higher education, he had been hired by the second most influential newspaper in New York and one of the top five in the United States.
He worked in various "city desk" news assignments and finally got the interesting assignment of covering New York's famed Mayor Fiorello LaGuardia. He became close enough to the feisty mayor to receive an offer to join his administration as an official of the Fire Department and to receive correspondence from him while he was overseas in the Army in World War II. While in the Army, Bob participated in the Normandy Invasion and the Battle of the Bulge as an infantryman. Finally in the last months of the war he received a coveted assignment as a reporter for Stars and Stripes before returning to the Tribune late in 1945. Less than two years later he received a major promotion to the Washington Bureau. Bob was no longer a beginner. He was on the way to becoming one of America's top journalists.
Over the next few years Donovan covered the U. S. Senate; the Presidential "Whistle Stop" election tour of 1948; events like the MacArthur-Truman meeting on Wake Island during the Korean War; and finally Eisenhower's presidential campaign of 1952. With the coming of the new president he moved permanently to the White House Press Room. And over the next few years he rose to be president of the White House Correspondents' Association and author of the first major book done on the Eisenhower administration complete with special security clearance, a temporary West Wing office and access to virtually all of the White House's internal documentation. But unlike all "inside" presidential biographies since, this was one without a visible bias and equally popular and unpopular among both Republicans and Democrats.
With his book complete, Bob succeeded Roscoe Drummond as Washington Bureau Chief of the Tribune and, in 1962, moved to Bureau Chief of the Los Angeles Times as the Tribune began to drift towards its eventual financial demise. He was also called upon as an author, first of a book on longtime Republican House Speaker Charles Martin and then of new Democratic President John F. Kennedy. The latter "PT-109," is among the most read books of the 20th Century.
In 1971, Los Angeles Times publisher Otis Chandler asked Bob to become Managing Editor of the Times, then took it back in favor of Bill Thomas, the man Donovan had originally suggested. He then returned to Washington as a columnist and author of a number of books including the two volume "definitive" history of the Truman Administration. It was his work on the volume that led Congress to invite him to address a Joint Session of Congress in 1984 on the occasion of the 100th Anniversary of the birth of Truman the only journalist ever asked to make such an address.

Bob kept active after retiring from the Times in 1977, writing several more books (to a total of 14) including his autobiography "Boxing the Kangaroo." (From an incident in Australia when President Lyndon Johnson induced him to enter a boxing match with a trained six-foot kangaroo!) He also took his years of newspaper experience to Princeton where he served as Ferris Professor of Journalism. Bob was also in contact with Omega in his later years, but completely out of touch with his old cohorts from Buffalo. He died on August 8, 2003.
PLEASE VISIT AGAIN – MORE COMING