War Against Terrorism
Brother Pete Johansen – Beta Chi Chapter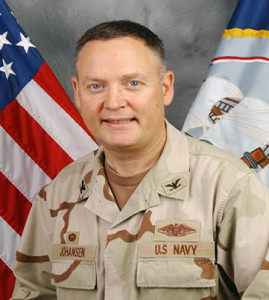 Bro. Peter C. Johansen joined Beta Chi Chapter in West Hempstead High School, where he was class president and played football and soccer, in 1970. Pete had three older and one younger brother in the chapter and two brothers-in-law as well. From West Hempstead, Pete went on to the New York Merchant Marine Academy at Fort Schuyler and then into the shipping business with help from an Omega brother, first with Sea-Land Corporation, then Reefer Express, then New York Waterways, and currently Great American Lines.
During the 9/11 events, Pete was the "man on the scene" who initially organized the mass exodus from lower Manhattan across the Hudson to New Jersey. He has also served on the faculties of the U. S. Merchant Marine Academy at Kings Point and Nassau Community College.
Brother Pete has been a member of the U. S. Naval Reserves since college and is now a full Navy Captain. During the initial buildup for the Iraq War, he was head of the embarkation port in Turkey which ended up not seeing much action and more recently headed the shipping port in Kuwait through which most U. S. forces and equipment passes. He holds two Legion of Merit medals and retired from the Navy on May 16, 2009 in a ceremony attended by eight other Navy captains, where he received the Meritorious Service Medal.
In Omega, Pete was Secretary and Princeps of Beta Chi Chapter and Grand Recorder, Grand Historian and Third GVP of the national fraternity.
Captain Johansen, (center) assumes command in Kuwait.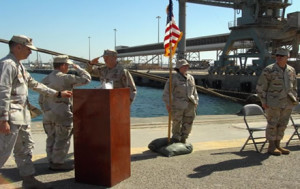 Dear Brothers,
One of the time honored traditions of the US Navy is the Change of Command Ceremony. While the Navy may give you a set of orders that directs you to assume a new command, it does not become official until the torch is passed. The incumbent Commanding Officer says, "I am ready to be relieved" and the new CO says "I relieve you, sir". Then the outgoing CO says "I stand relieved" and the deed is done.
On Friday February 9, 2007 I had the pleasure to assume command of MSCO Kuwait from Captain Steven DeLong. The ceremony was attended by Commodore Glen Sears, the MSC Area Commander and a number of guests from various Army and Navy commands.
I held command of Military Sealift Command Office Kuwait until November 19, 2007. During my tenure there we hosted about 70 vessels carrying supplies in support of OIF.
In 2003, I stood up the Military Sealift Command Office in Iskenderun, Turkey as the US was preparing for a northern invasion of Iraq through Turkey. We had discharged 8 vessels worth of logistics gear and built a supply route to the Iraq border before the Turkisk parliament voted against allowing the US to use their country for a war against Iraq.
Fraternally,
Brother Pete Johansen
Brother Kevin Toner, Beta Pi Chapter
Brother Kevin R. Toner joined Beta Pi Chapter in Pompton Lakes, N.J., during the summer of 1989 and was graduated in 1993. He graduated the United States Military Academy at West Point in 1997 and remains an actice duty Army officer. He earned a Masters Degree from Columbia University and is currently a professor at West Point.
In Iraq: As Captain, Commander Delta Troop, 4th Cavalry Regiment, 1st Brigade Combat Team, 1st Infantry Division.
Troop was securing area outside of Ramadi, capital of Al Anbar Province. Brother Kevin is on his way to a meeting with an anti-coalition sheik at a local mosque.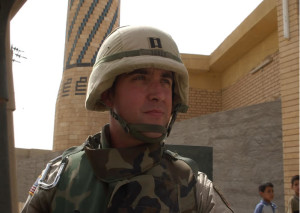 Conducting training with anti-tank rockets in open desert southwest of Fallujah.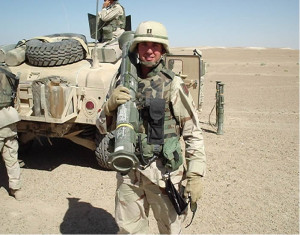 Brother Mattheus Pacheco, Alpha Phi Chapter
Brother Mattheus C. Pacheco, is a 2006 graduate of East Rockaway's Alpha Phi Chapter. Matt played Lacrosse, was in the Key Club, SADD, the Bully Prevention Program, the orchestra and the orchestras for the Annual Musical and Rock Rivalry while at East Rockaway High School. He signed up for the U. S. Army while in high school and left for basic training as soon as he was graduated. After training he was sent to Afghanistan as a Specialist with the 202nd MI Battalion, where he worked in Force Protection in Khost Province in eastern Afghanistan, along the Pakistan border. He returned to the U.S. in January 2009, to prepare for deployment to Iraq, but instead was returned to Afghanistan for a second tour in the fall of 2009. Matt recently provided long-distance advice to a young alumnus of Beta Pi Chapter training for deployment to Afghanistan.
This is a wealthy home in Khost Province.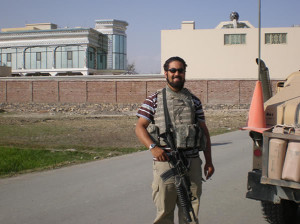 Brother Matt on patrol on a mountain in eastern Afghanistan.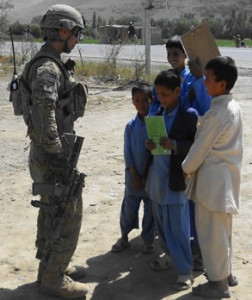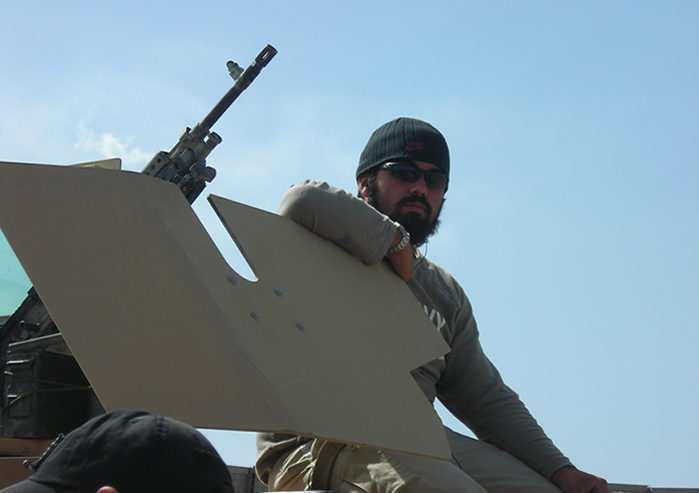 Omegamen in World War I
The records of Omega specifically show the wartime service of some 268 brothers out of the total of 1,300 who had been initiated by that time. It is fair to assume that the honest total would have been closer to 300. A number of Omega brothers made the supreme sacrifice in the war and there were probably a few more whose names have gone unrecorded:
Lieutenant Leslie Herbert Groser, Alpha '06
Cadet Bert Rice Smith, Alpha '08
Corporal Joseph Paxton McKinney, Alpha/Mu '14
Private Thomas O. Hokenson, Alpha '15
Corporal Henry Ingersoll, Gamma '11
Corporal Thomas F. Galwey, Delta '12
Master Engineer Thomas Jeffrey Doran, Eta '06
Corporal Eliphalet Snedecor Jr., Iota '11
Private Albert A. Klaiber, Mu '14
Lieutenant David Irving Reynolds, Omicron '14
In addition to those who died in service, several brothers made contributions of especial note:
Ensign Tedford H. Cann, Epsilon '14: First man to earn Congressional Medal of Honor in WW I.
Lt. Commander Robert MacCulloch, Beta '09: First man ever to win the Navy Cross; winner of Distinguished Service Medal.
Major Joseph May Swing, Kappa '10, served on the western front as commander of an artillery unit and then was promoted to be Aide-de-Camp to the Army's Chief of Staff, General Peyton C. March.
Lt. Commander Jeremiah A. Starr, Delta '05: Commander, USS Asushnet.
Major David Lukens Shoemaker Brewster, Eta '06, one of the first licensed pilots in the U.S. Marine Corps, commanded the First Marine Aeronautic Company on anti-submarine patrol from the Azoeres Islands, the first American aviation unit to serve overseas in WW I.
Major W. Vernol Cadmus, Beta '11
Thomas Childs, Epsilon '09: General Staff, Washington, DC
Joseph P. McKinney, Alpha/Mu '14: Twice personally decorated by General Pershing. French Croix de Guerre.
In addition, at least 12 brothers reached the rank of Captain during the war:
Clifford H. Ayers, Beta '04; Samuel A. Coykendall, Alpha '07; Percy T. Edrop, Alpha '02; William Fairhurst, Beta '08; Chester L. Fordney, Lambda '10; Raymond M. Gunnison, Gamma '03; Charles W. Johnston, Alpha '04; John S. McKinney Eta '06; Joseph E. Mirandon, Beta '07; George F. Meyers, Beta '07; Harold W. Rudolph, Mu '12; Walter W. Stake, Epsilon '09.
And of course there was future Honorary Alpha Eta Brother Newton D. Baker Jr., who served as Secretary of War.
An Omegaman Who Couldn't Wait
Youth is seldom willing to wait. In both World War I and II, many young brothers couldn't wait until graduation-time to "join the colors." Some of them couldn't even wait until they reached the minimum age and joined up illegally. The New York Times for February 27, 1919 carried the story of one of those eager young members of Omega.
"The United States naval transport President Grant arrived yesterday from Brest after a voyage of eighteen days due partly to standing by the disabled steamship Polar Bear …Among the heroes who returned on the President Grant was Cornelius Fiske, formerly a private in the Sixth Marines who distinguished themselves at Belleau Wood, Soissons and Chateau Thierry. He was a naval prisoner in the ship's brig because he had joined the navy when he was sixteen years old and after a short stay at a training station he had gone to France as a member of the crew of the President Grant and deserted on his return to New York to join the Marines.
He was sent to the 74th Company of the Sixth Regiment and was one of 14 survivors of that company after Belleau Wood and was wounded later at Soissons."
The story went on to relate that Brother Fiske had turned himself in to the military authorities after the fighting had ended and that the arresting officer has been so impressed with the record of the young man, who was still under the legal age for enlistment, that he had obtained special permission to return with him to the United States to defend him at his Court Martial. There is no newspaper account of the outcome of that trial, but it is fair to guess that the court had much the same opinion of Brother Fiske since he was back at Boys' High School by the opening of the following school year.
An Omega's Voice on the War
Omega's Founder the Rev. Percy T. Edrop, '02, was a journalist before entering the ministry, being a reporter or editor for The New York Evening Journal, The New York American and the New York Tribune. Before theUnited States entered World War I, he volunteered for service as a chaplain and was commissioned as a captain. He was relieved of duties as a chaplain by Secretary of War Newton D. Baker Jr. (later an honorary member of Omega) and put in charge of a large number of military camp publications. This eventually led to his becoming the original Managing Editor of Camp and Trench, a military publication which is the direct ancestor of Stars and Stripes. Following the war, the editorials of Brother Edrop, famed historian Douglas Southall Freeman and other member of the staff, were collected and published in the book Marching Into the Dawn.
Omegamen in World War II
Omega's record of service for World War II is less clear than that of World War I because so many chapters never reorganized after the war and therefore were unable to do the research needed to provide accurate records. The number publicly recorded is 450 and it can be safely assumed that an accurate total would come closer to 1,000. Of these, the following is the list of brothers known to have given their lives in service. It is more complete than the general service list, but probably also is missing additional Gold Star Brothers. One matter of note is that two former Grand Princepses of Omega were among the dead. A third was so disabled by World War II service that he eventually died as a result.
Gunner Ronald Stewart Knaus, Beta '20.
William Abram Storms, Beta '38
Robert Fischer, Delta '34, Naval Aviation
Brigadier General David Lukens Shoemaker Brewster, Eta '06
Lieutenant George Waldron Petersen, Theta III '32
Lieutenant Robert G. White, Theta III '35
Martin G. Spinelli, Theta III '39, U. S. Army
Technical Sergeant Frank A. Neu, Theta III '39
Lieutenant John E. Eichmann, Theta III '40
Lieutenant Charles Pratt Canham Jr., Iota '29
2nd Lieutenant William Masson Brick, Iota '39
Charles Francis Brennan, Kappa '25
Major Horace John Greeley, Mu '30
Morgan V. Desmond, Mu '34
Joseph Lane, Mu '34
Walter Danielson, Mu '39
Edward O'Hanlon, Mu '39
Captain Daniel Edward Kent, Rho '18
Lieutenant George A. Kain, Rho '38
Lieutenant Elmer Paul Mongarelli, Rho '40
Captain William Lewis Hoppes, Tau '22
Robert Hulbert Jr., Tau '41
Arthur Ziegler, Upsilon '27
Second Lieutenant Daniel J. Haggerty, Chi '28
Second Lieutenant Douglas C. Banks, Alpha Alpha '37
Norman Banks, Alpha Alpha
John Masciolli, Alpha Gamma
Ensign William T. Nessenger Jr., Alpha Iota '30
Stanley M. Hafele, Alpha Iota '35
Charles Cordes, Alpha Iota '40
Sergeant Campbell T. Ames, Alpha Lambda '33
William W. Murphy, Alpha Mu '37, Army Air Force
Staff Sergeant Eugene Owen Gladd, Alpha Sigma '33
Private First Class Stephen Vincent Cannone, Alpha Sigma '42
William Smith, Alpha Sigma
Thomas F. Moore, Alpha Phi '37
Quartermaster Second Class John Joseph McNamara, Alpha Phi '38
Andrew Adam Dyke, Alpha Phi '38, Army Air Force
Robert Mason, Alpha Phi '38
Edward C. Gibbson, Alpha Phi '41
Seaman Second Class Robert Leonard Bonagura, Alpha Phi '41
August Vogt, Alpha Phi '42
Lieutenant Owen H. Salvage, Alpha Psi '37
William Nally, Alpha Psi '38
Thomas O'Neil, Beta Alpha II '42
Private First Class Robert C. Rachofsky, Beta Gamma '41
Three Omegas Among the Stars of World War II

In World War I, few Omegas were old enough to play more than a supporting role. But in World War II, Omega had the privilege of seeing at least three brothers make headlines.
First among Omegaman to achieve "flag" rank in World War II (and incidentally to become one of the fraternity's last Gold Stars) was Brother David L. S. Brewster who joined Omega's Eta Chapter in Washington D.C. as a student at McKinley Manual Training High School in 1906. McKinley was Washington's "technical" high school and its graduates tended to gravitate to engineering and the milatary. Brewster was commissioned as a second lieutenant in the Marine Corps in 1910. He became interested in aviation and by the time the United States entered World War I was a qualified pilot in dirigibles, balloons and regular aircraft. His assignment during the war was sinking German submarines that surfaced in the Atlantic.
As the United States moved into World War II, he served as Chief of
Staff for the First Marine Division, the force that would stage the first
major U. S. land invasion at Guadalcanal.
Over the course of the next 20 years, Brewster achieved a solid reputation as one of the Marine Corps' workhorse officers, especially during the U. S. intervention in Nicaragua. As the United States moved into World War II, he served as Chief of Staff for the First Marine Division, the force that would stage the first major U. S. land invasion at Guadalcanal. After a period organizing the Marine buildup early in the war, he was sent to the Marianas in 1943 as Deputy Commander of the First Marine Amphibious Force. Invalided home, he became Chief of Staff of the Fleet Marine Corps and died of illness picked up in the Pacific in July 1945, just prior to the end of the conflict. The importance of Brother Brewster was recognized at the time of his death with the lead obituary in The New York Times and by his inclusion in Who Was Who shortly thereafter, a distinction only achieved by a few American military officers. Had his career not been cut short by the result of war-time service, the name of David Brewster might easily have headed up the Marine Corps after the end of the conflict.
Second to reach "star" status was Brother Joseph May Swing, Kappa '10. Born in Jersey City,New Jersey in 1894, Joe Swing was a member of the "Ramblers" Fraternity at Newark's BarringerHigh School when it became a chapter of Omega in late 1910. A star student and athlete at Barringer, Brother Swing graduated in 1911 and won appointment to the U. S. Military Academyat West Point where he was the third youngest member of the class of 1915 (which also included future Generals Omar Bradley and Dwight Eisenhower).
Assigned to the Field Artillery on graduation, he participated in General Pershing's 1916 Punitive Expedition to Mexico and shortly after the United States entered World War I, was sent to Francewith the artillery of the First Division. There he became one of the youngest majors in the U. S. Army and returned to Washington later in the war as aide-de-camp to General Peyton C. March, Army Chief of Staff (and cemented his status as part of the Army establishment by marrying the general's daughter!).
Between the wars Swing held a number of responsible positions in the artillery forces including as Chief of the War Plans Section. As a Brigadier General, just after the opening of World War II, Brother Swing prepared the artillery of the First Cavalry Division for war-time service.
Starting in 1940, the Army had been experimenting with the idea of airborne infantry troops and, in August of 1942, created two entire airborne divisions, the 82nd and the 101st. Joe Swing was one of the first volunteers for this radical departure from traditional Army doctrine and became artillery commander of the 82nd; his counterpart at the 101st was Anthony McAuliffe who won fame with his "Nuts" remark at Bastogne. Generals Matthew Ridgway and Maxwell Taylor (both future Army Chiefs of Staff) were also among the dozen leaders picked to implement the new airborne program.
After six months of putting the 82nd into fighting order, Swing was promoted to Major General and given his own airborne division (the 11th) to organize from scratch. In the meantime there had been limited use of airborne troops during the North African campaign and Swing was detached from his command to become Eisenhower's airborne advisor during the Sicily Invasion that followed. Eisenhower was unhappy over the effectiveness of the paratroops and Chief of Staff General George C. Marshall gave Swing the task of recasting airborne doctrine as an alternative to abolishing the program. The work of the "Swing Board" and the extraordinarily successful results of a large-scale exercise using the revised practices (the Knollwood Maneuver) under the command of General Swing in December 1943 gave new life to airborne.
General Swing and his forces were then scheduled to become the lead element
in the proposed invasion of Japan. Instead, Brother Joe Swing ended up becoming
the first American to step onto Japanese soil after the formal surrender. To say that
Omega was at the forefront of the American victory would be to put it very mildly.
So far, General Swing had missed leading his forces into actual combat; Washington had reserved the 11th Airborne for the Pacific Theater. His moment finally came in November 1944 when the 11th became one of the principal units involved in the re-conquest of Leyte Island, then Manilla and finally, southern Luzon Island. The 11th's capture of Los Banos Prisoner of War Camp is still ranked as one of the most successful airborne actions of all time. General Swing and his forces were then scheduled to become the lead element in the proposed invasion ofJapan. Instead, Brother Joe Swing ended up becoming the first American to step onto Japanese soil after the formal surrender. To say that Omega was at the forefront of the American victory would be to put it very mildly.
Following the war Brother Swing became the first Omegaman to lead the Army
Command and General Staff School and then retired as a Lieutenant General commanding the United StatesSixth Army.
Following the war Brother Swing became the first Omegaman to lead the Army Command and General Staff School and then retired as a Lieutenant General commanding the United StatesSixth Army. From there he immediately stepped into civilian prominence as Commissioner of the Immigration and Naturalization Service (INS), where he remained for most of the Eisenhower and part of the Kennedy Administrations. He died in 1984 at the age of 90, honored as one of the creators of a new form of warfare.
In many respects the last of our trio of generals is the one who ended up having the broadest influence on the world of the United States military. Brother Garrison Holt Davidson, born in 1904, grew up in New York City and attended Stuyvesant High School where he joined Omega's Pi Chapter during his senior year. At Stuyvesant Gar had been a star of the school's championship football squad and he excelled again as a cadet at West Point, both on the gridiron where he won an All-American Honorable Mention and in the classroom where he graduated at the top of his class and as cadet captain and class vice president. Six years after graduation he was recalled to his Alma Mater as West Point's youngest-ever football coach and where he endured the dubious distinction of weekly phone calls on football strategy from Army Chief of Staff Douglas MacArthur, a former Superintendent of the Academy. Gar led Army football to become one of the top-ranked schools in the country.
Brother Davidson later liked to relate wearing his Omega pin on the underside of his
collar beneath the star given to him by General Patton through the rest of the war.
Omega's emblem was present at some of the greatest allied victories in the War.
As a top graduate, Davidson had been commissioned in the Corps of Engineers, which made him a poor prospect for promotion to general in the way the Army was then structured. But it allowed him to be in charge of the Army's billion-dollar construction budget as it built-up for the coming war. From there he became Engineering Officer to General George Patton in West Africaand Sicily. His promotion to Brigadier General at the age of 39 required special action by Congress to wave the limitation on rank for engineers. Gar was then tapped as an aide to Supreme Commander Dwight Eisenhower. In this position, he was in charge of selecting the site and planning the landings for the second invasion-front in South France. The invasion underway, he became Engineering Officer to General Mark Clark who was sufficiently impressed to call him back as his chief-of-staff following the war. Soon after Brother Davidson had arrived in Africa, Ed Chapman of Pi Chapter sent Gar an Omega pin, something he had never had the funds for as a student at Stuyvesant. Gar later liked to relate wearing his Omega pin on the underside of his collar beneath the star given to him by General Patton through the rest of the war. Omega's emblem was present at some of the greatest allied victories in the War.
As one of the Army's most intellectual generals, Brother Gar was appointed President of the first Nuremberg War Crimes Tribunal, which established the precedent in international law that obedience to illegal orders was not an acceptable defense.
In the early part of the Korean Conflict, General Davidson commanded several United Nations combat forces and was Chief of the Korean Military Assistance Group. In the opening months of the war, Gar led the famous end run of "Task Force Davidson" that encircled large numbers of North Koreans at the so-called Pusan Perimeter. (Davidson's protector overhead was Air Force General Emmett "Rosie" O'Donnell of Mu Chapter, one of his closest friends at West Point and later one of his assistant coaches for Army Football.) A second special task force commanded by Davidson threw back the North Koreans and Chinese at the Naktong Bridgehead. The fictionalized exploits of Gar Davidson have, over the years, been written into several of the most successful novels about the war.
From Korea he was recalled to Washington as an advisor to the Secretary of Defense and then toKansas as Commandant of the Army Command and General Staff College. In 1956 he was selected as Superintendent of West Point in order to reorganize and modernize the curriculum. He then served as commander of U. S. Forces in Germany during the Berlin Crises and finally as Commanding General of the First Army and member of the U. S. Delegation to the United Nations. His last duty as an Army officer was to escort the widow of Douglas MacArthur at the General's funeral.
Throughout his life, Gar Davidson remained actively interested in Omega. Like many other members of Pi Chapter who grew up in the "tough" parts of New York, Gar felt Omega had been a major factor in developing his character.
Gar was buried with full military honors at the West Point Cemetery in 1993. At his request he was buried in "Professor's Row" rather than with the other general officers. In a personal reminiscence to this author, West Point Superintendent, Lt. General Howard D. Graves, who had been a student under General Davidson, related a story of Gar's last days, which highlights his character and caring. On visiting the Point, Davidson had noticed a statue of General MacArthur whose base bore the legend "There is no substitute for victory." Gar had called Graves to express displeasure over the quote on two grounds. First that it expressed a sentiment that was alien to the quality of sportsmanlike conduct he had always encouraged at West Point and second, that it was a quote taken out of context. Just a few weeks before Gar's death, General Graves had been able to advise him that the pedestal had been re-engraved to show the full quote: "In war, there is no substitute for victory."
On May 21, 2008, in ceremonies at the U. S. Chamber of Commerce's Hall of Flags in Washington DC, it was announced to a large gathering attended by numerous current and retired military leaders, that the U. S. Military Academy was instituting an Oral History Center at West Point in honor of General Davidson to collect first hand accounts of past and future military experience.
Gar Davidson was a class act and an example of what the Omega ideal means.
Omegamen in the Vietnam Conflict

While the fraternity has no clear idea of the number of its members who served during the Viet Nam Conflict, it does know the names of twelve brothers who gave their lives in service:
Colonel Paul Oswald Meder, Alpha Mu '48
Norman William Courbois, Alpha Phi '56
Private First Class Gary William Thornlow, Alpha Phi '65
Lieutenant Jon Marc King, Alpha Chi '60
Private First Class Ronald Vincent Maiorana, Beta Gamma '64
Staff Sergeant Thomas Anthony Scibelli, Beta Psi '58
Specialist Fourth Class Joseph John Grande Jr., Gamma Psi '60
Specialist Fourth Class Robert Ludecker, Iota Rho '65
Lieutenant Anthony Alfred Giretti, Iota Rho '61
Lance Corporal William George Dutches, Iota Omega/Beta '60
Sergeant Kevin Bernard McGovern, Tau Zeta '65
Private First Class Wayne Lee Middleton, Delta Psi Delta '61