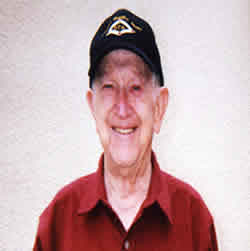 Dear Brothers,
I was a member of the Alpha Mu Chapter in Jamaica High School class of 1933. I will be 93 years old this year and I still recollect many fond memories of my youth in Omega. I was chairman of the dance committee for several years. I remember we rented out two ballrooms in the Garden City Hotel, hired two bands and had several hundred people attend. It was so packed we had to set up bars in the hallway to accommodate all the revelers. It was a night to remember. Another time we rented the Starlight Room in the Hotel Aster in New York City. Our dances were so successful we were able to rent a clubhouse over a florist shop on 212th Street in Queens Village where we held all our meetings. I was also a member of the swimming team at Jamaica High 1932-33.
I toured Europe at the expense of the Government as a US Army Lt. Colonel [1944-45] from Omaha Beach in Normandy to the Elbe River where we met up with the Russians.
I lived in Glen Cove, N.Y.[1946-1980] then St. Augustine, Fl [1980-2000] and moved to Southern California in 2001. I would like to contact old members of the Alpha Mu Chapter or any Brothers in Southern California. Please contact me at[email protected].
I will always fondly remember Omega Gamma Delta. Best wishes to all.
Bro. Bill Wolf '33