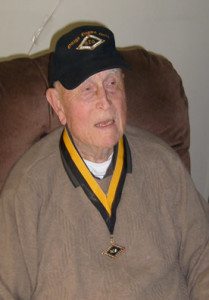 Erling Raymond (Erl) Landsnaes, is an alumnus of Gamma Chapter at Erasmus High School in Brooklyn, Class of 1926. He was born on July 4, 1908. Following Erasmus, Erl attended Fordham University and Fordham Law School while working part-time in the ball bearing industry. Following law school he became a Special Agent with the FBI and served in that position through World War II, part of that time chasing German spies dropped by submarines on Long Island. Following the war, he became a salesman for the Bearings Specialty Company, moving to California for the firm in 1957, and continuing there until retirement.
Erl's younger brother, Ralph, joined Gamma Chapter before he did in the 1920s, graduated from Dickinson College and spent a lifetime in the motion picture industry. Like Erl, he also proved the value of "good genes" by surviving until the age of 95 in 2005.
Says Brother Landsnaes of life "I don't regret any of it. You can't regret things. Or for that matter forget things." Erl still remembers his involvement in Omega Gamma Delta in Brooklyn and proudly wears his Omega cap.